PDO Thread Face Lift Kent, Essex and London
PDO Thread Face Lift
The 'no blade facelift' is once of the latest non-surgical aesthetic treatment trends made popular by numerous celebrities and it is an excellent and effective technique to lift and tighten the skin. It has the potential to re-define facial contours and induce collagen production. The treatment forms part of an integrated support structure for the tissue of the face by encouraging natural collagen synthesis with immediate results the peak at 3 months and last between 12-18 months.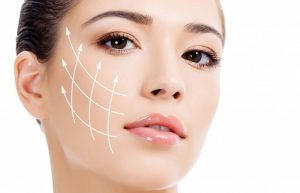 PDO threads are surgical threads made of polydioxanone (PDO). The thread material has a long history having been used in heart surgery for many decades. Today, people know them as 'dissolvable stiches'
The threads are inserted into the skin tissue to ultimately lift, tighten and rejuvenate the overall appearance of the skin. The threads have two powerful effects; in the first instance they tighten the skin, the effects of which can be seen immediately. The second is to stimulate your own production of collagen.
The treatment can be combined with dermal fillers to truly re-define and rejuvenate facial features, resulting in a refreshed and more youthful appearance.
At Intrigue Cosmetic Clinic, we will first have a consultation to establish the exact look you are after and discuss what is actually achievable. This will allow us to create a personalised treatment plan tailored specifically to you, as no two faces or looks are the same. We also have a large portfolio of work that we can show to demonstrate what look is achievable with different techniques and placement of threads. At Intrigue Cosmetic Clinic, we use only the best and most established PDO threads. For all PDO thread lift procedures, we use local anaesthetic, making the whole experience a little more comfortable.
PDO thread face lift treatment is an advanced procedure and should only be carried out by appropriately trained and experienced practitioners.
Our clinic is situated near Longfield mainline station, making us conveniently located for those from Dartford, Gravesend, Bexley, Bromley, Kent, Essex, London and surrounding areas situated customers seeking PDO threads, lip fillers, dermal fillers and Botox®