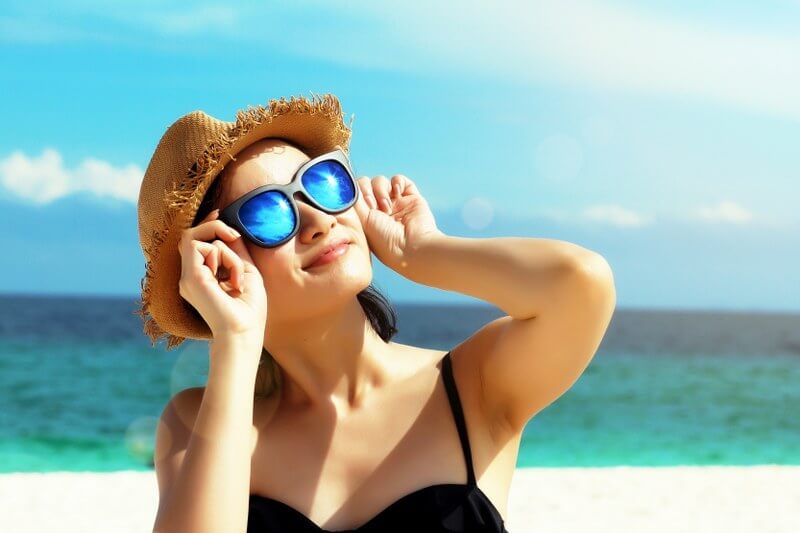 Looking after your skin in the summer
12-08-2020
This incredible heatwave is certainly boosting our vitamin D intake, but what does all this sunshine mean for our skin?This summer, we have enjoyed some fabulous weather. However, as we look to restore our wellbeing with some fun in the sun, we should also be mindful of how best to protect our skin from its detrimental effects. Our skin experts share a few of their essential tips for looking after your skin this summer.
Protect Your Summer Skin
Investing in a broad spectrum SPF 50 sun cream that contains vitamin C and E (proven to repair the skin) is important and remember to reapply regularly.
With thermometers breaking record highs, do take extra precautions when it comes to maintaining your health, as well as, protecting your glowing skin.
Nobody looks cool with sunburn. With the incidence of skin cancer rising and, according to skincare experts the British Association of Dermatologists, many of us still haven't ditched that desire for a tan.
Here, at Intrigue Cosmetic Clinic, we suggest you limit your exposure to the sun. Whilst it may be tempting to lie out in it for long periods of time, UV rays are harmful. Stay out of direct sunlight, especially during the hottest parts of the day.
And, if the risk of skin cancer doesn't alarm you, the ugly truth of this summer's beauty aims will. Sun exposure can also discolour our skin, affect its elasticity and reduce collagen production, causing wrinkles and premature ageing.
It's also important to keep hydrated to keep skin nourished. Drink plenty of water to ward off headaches and dizzy spells, as well as halt skin deterioration.
Live A Healthy Lifestyle
Smoking and alcohol also impact negative on our skin health. Quit cigarettes and cut down on your alcohol, too. However tempting those summer cocktails might be, they wreak havoc on our youthful appearance.
Looking after your skin also includes your diet. Try to limit those ice-lollies and ice cream when temperatures rise. Sugar is not great for the complexion either. An insulin spike increases the production of skin oils and contributes to the clogging of follicles that trap oil and lead to break outs and inflammation that, in turn, breaks down collagen and elastin, resulting in sagging skin.
As we sleep, skin repairs itself so get plenty of it by switching off from the digital world an hour before bedtime, keep your bedroom ventilated and don't forget to use a night moisturiser.
Adopt A Good Summer Skincare Routine
Skin dries out in these summer months and we see an increase in dead skin cells so it's important to exfoliate your skin with a facial scrub to keep it smooth and glowing. Looking after your skin requires you to dedicate time and effort to your home care regime. Consider booking a consultation with one of our skin specialists at Intrigue Cosmetic Clinic, who can advise a tailored programme of skin care treatments just for you.
We also stock medical grade skin care products, such as the Obagi range, to improve the quality of your skin and iS Clinical cosmeceuticals . Our treatments combine traditional botanical medicine with advanced technological formulation expertise to enhance the in-clinic results; Perfect considerations for the coming autumn months.
Taking care your skin all year round is a sound investment for the future you. Follow our tips and please browse our treatments to get the ultimate in skin rejuvenation and achieve that healthy glow safely.
Read Our Fabulous Blog Entry Exploring Why Do We Take Care Of Our Appearance? The Rise Of Aesthetic Treatments.
BACK TO BLOG