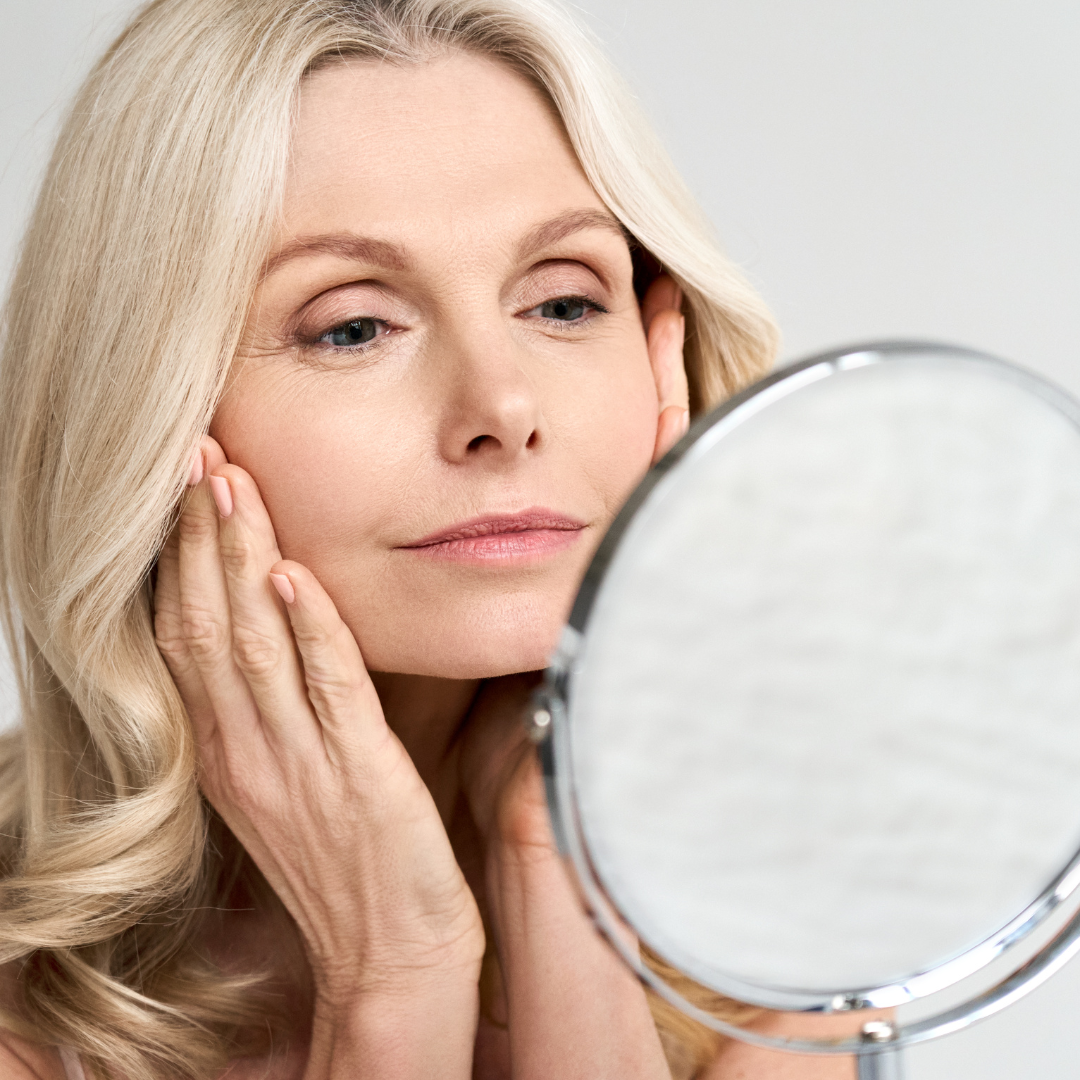 How The Menopause Can Affect Your Skin
04-04-2023
Menopause can affect your skin in many ways, and at Intrigue Cosmetic Clinic, we understand that this can be an emotionally and physically challenging time for our clients. In this blog, we share some insight into how menopause can affect your skin with practical advice and tips to help you overcome common symptoms.
Your Skin and Menopause
As we age, our collagen production naturally begins to slow down. When we reach peri-menopause age and into menopause, our collagen production will drop more rapidly. Skin elasticity combined with receding bone can contribute to wrinkles and volume loss. Hormone level fluctuations can cause imbalances causing skin conditions such as overly dry skin and spot outbreaks as Estrogen levels rise and drop, and eventually production of Estrogen petters away. You may find you suffer from sensitive skin. These changes in your skin's appearance can sometimes be worrying, difficult to manage and even affect your mental health. The good news is that there are many ways that you can help address these symptoms, regardless of whether you choose hormone replacement therapy or not.
Hydrate, Hydrate, Hydrate
Give your skin a hydrating boost by upping your water intake; not only will you be flushing out toxins, but you will also be hydrating your body and skin. Hydrated skin looks plumper and helps fill out fine lines and wrinkles. Alongside water, review your skincare routine. Your skin during menopause and postmenopause will have different requirements. To keep your skin healthy and hydrated, choose professional-grade skincare products to suit your skin age and boost your skin health. Professional-grade skincare is formulated and more concentrated than high-street brands, so that you can expect more refined results.
Protect With SPF
At the clinic, we see what UV damage does to the client's skin. Not only does UV damage carry the risk of cancer, but it also contributes to deep wrinkles and dark skin patches known as pigmentation. Wearing a high SPF is essential for all skin types, including darker skin. We recommend wearing a factor 50 SPF all year around to help protect your skin.
Prevent & Manage Spot Outbreaks
Spot outbreaks can be very common in menopausal skin and are one of the more common symptoms of menopause. This can range from a few pimples to acne. A thorough skincare routine will cleanse, exfoliate and hydrate. By exfoliating dead skin cells, you are helping support cell renewal and remove dirt and grime, which can build up in your pores and cause spot outbreaks.
Tackle Sagging Skin & Volume Loss
Dermal fillers are an effective treatment for menopausal women and post-menopausal women. Dermal fillers can help soften the appearance of wrinkles and restore lost volume in the face to refresh a tired face. At the clinic, jawline filler and cheek filler are two very popular treatments. Tackling nose-to-mouth lines and lips can be a subtle but effective way of rejuvenating the face. If you don't like the idea of dermal fillers, anti-wrinkle injections are an excellent way to soften expression lines. Skin boosters are also an excellent non-surgical option for collagen loss. Many postmenopausal women find that combining treatments help them look and feel their best.
Remove Dryness & Flakiness 
Dry, flaky skin can be a menopause symptom which some clients find difficult to manage. However, with a tailored skincare approach and a healthy diet rich in oat flakes, eggs, salmon, tomatoes and spinach, dairy products, bananas and walnuts, you can replenish your skin through diet. Including nuts and seeds, rich in vitamin E, supports your skin's lipid layer and offers greater skin hydration.
Say Goodbye To Dark Spots
We offer several treatments for hyperpigmentation, which can result from a drop in levels of estrogen and progesterone, causing hormone imbalances. A tailored skincare routine using medical-grade products and professional facials that include chemical peeling can sometimes be recommended after consultation with the client.
BACK TO BLOG